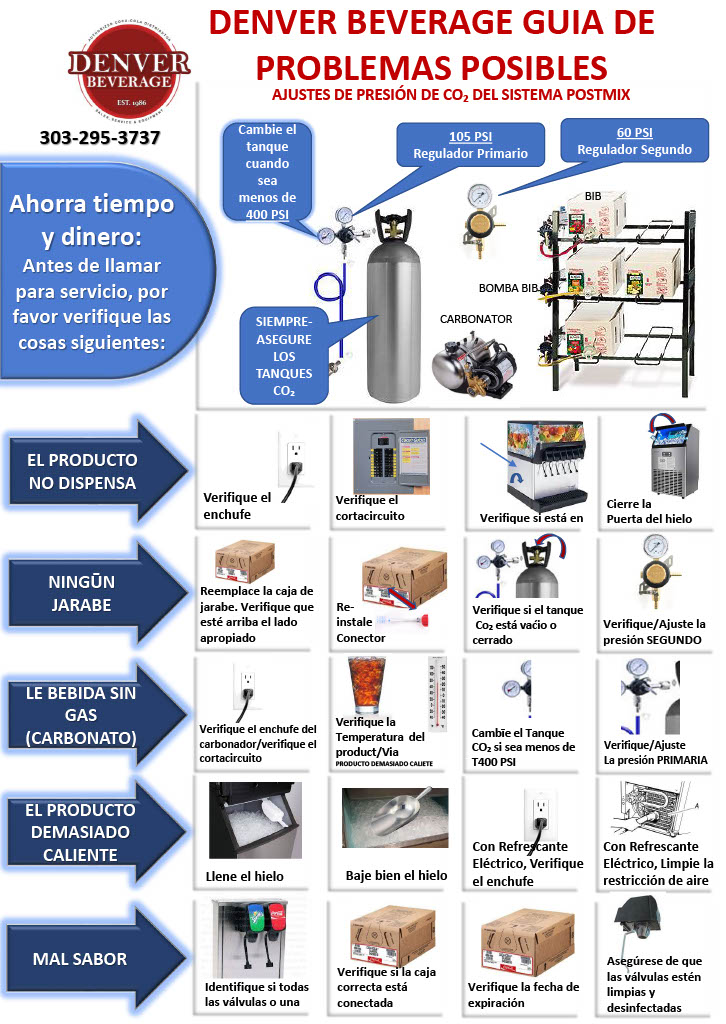 Is your soda fountain machine or bar gun having issues dispensing, or do you have a flat drink? We have a great troubleshooting guide to help you determine the problem and save time and money checking on common issues.
If the Coke or other sodas are not dispensing, first check:
To make sure electrical plug and/or the circuit breaker is working

Make sure unit is turned on

If the fountain unit is on, close the ice bin door.
Fountain System Only Dispensing Water with No Syrup
Replace the syrup box and check if proper side is up

Re-Install the connector

See if the CO2 tank is empty or closed. Replace CO2 tank if pressure is less than 400PSI

See if the secondary pressure is at 60 PSI
If drinks are flat (no carbonation), check:
If the carbonator is plugged in and the circuit breaker is working correctly

To see if the temperature is too warm. See "product too warm".

Replace tank if pressure is less than 400PSI

Adjust/check primary pressure
Product too warm, check:
Fill ice bin

Tap down ice

With electrical cooling, check plug/breaker

With electrical cooling, clean air flow restriction
How to restore carbonation due to the loss of water to the system, if the system is just dispensing high pressure air, check the following:
Check to see if the water is on
Make sure the water valve handles are set to the "on" position
Once water is flowing, wait for the water to fill the carbonator
Run all of the dispensing lines and fill the lines with water
Give us a call at 303-295-3737, if you find you are not able to resolve the issues and we will have service out as soon as possible! If you would like a copy of this Troubleshooting Guide, give us a call and we will either drop one off on your next delivery or mail you a copy.
Thank you!
Your Denver Beverage Service Team