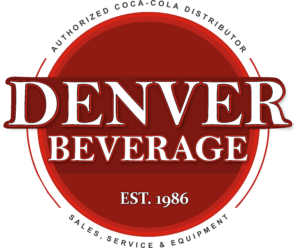 Denver Beverage is a full-service beverage company located in Denver, Colorado. We have been in business since 1986, serving customers in the food service, bar-tavern, school districts and health care industries in the Colorado Front Range Area. We are partnered with many national companies, including Coca-Cola, Arizona Tea, Perlick, Ice-o-Matic, Bevolution, US Cooler, and many others. We currently service more than 1,500 customers, making over 5000 stops a month providing Coca-Cola, bag-in-box juices, CO2 and other gases, soft drink equipment, beer equipment, ice makers, as well as refrigeration service and equipment. We serve some of Colorado's best-known independent restaurants and bars.
Denver Beverage is committed to customer service like no other company in Colorado. We offer same-day emergency service and delivery, including evenings, weekends and holidays. Our customers have come to rely on our quick response for emergencies and other needs. Please call 303-295-3737 day or night to find out how your business can benefit from Denver Syrup's products and services.
We carry all Coca-Cola products available in bag-in-box. We offer a wide variety of other beverages, including bag-in-box juices, iced teas, energy drinks, coffee, brewed tea, and slush products. We also carry all of the accessories you might need for serving fountain beverages, including CO2, cups, straws, napkins, and may other items.
Denver Beverage has soft drink equipment to meet all of your needs. Fountain dispensers, bar guns, carbonators, bag-in-box systems, and all aspects of installations and service. We have one of the most experienced service teams in the Denver Area. We customize in draft beer equipment, installations, and service. We have a full line of hydration products for the nursing home, assisted living, and other senior care facilities. We sell ice makers, including sales, installations, and service. We have dish machines and chemicals for all of your needs. We also provide refrigeration service and equipment, including custom walk-in coolers and freezers.
Contact our sales team for a quote today!